The Short Range Certificate (SRC), allows its holder to use GMDSS communication equipment, such as the VHF, required on a pleasure craft when sailing further than 6 nautical miles offshore. The SRC is required depending on the country of registration of the vessel and the sailing area.
La Belle Classe Academy of the Yacht Club de Monaco, allows you to prepare the French Version of the SRC, the CRR.
The Short Range Certificate (SRC) is a licence required for users of VHF on a French vessel abroad. Training will be delivered in French by La Belle Classe Academy at Yacht Club de Monaco. There will be two training sessions of 2 hours each:
– One theory session
– One practical session followed by preparation for a test
Communication equipment of the GMDSS (Global Maritime Distress and Safety System) are important elements for safety at sea and search and rescue.
Since 2017, it is compulsory to have a fix VHF on board for sailing further than 6NM offshore. To instal this equipment (such as VHF, MF/HF, AIS, EPIRB…) it is required to get a ship station licence allowing you to use the marine frequencies.
The Ship station Licence is delivered:
In Monaco, by the "Direction des Plateformes et des Ressources Numériques".
In France, by the "Agence Nationale des Fréquences" (ANFR).
The Short Range Certificate (SRC) is a licence required for users of VHF on a French vessel abroad.
In France's territorial waters, CRR is not required if the user holds a French Pleasure Craft driving licence.
There is no requirement for using this communication equipment onboard a vessel registered in Monaco. 
Please note that the SCR in English can be obtained in France but we cannot provide the adequate training as we would not be able to register you to the exam in English.
On the other hand, we can provide training for the French version of the SCR, the CRR, which is also recognised internationally. There is no condition of residence, the test is in French and you must be at least 16 years old to register.
A couple of sessions are organised every month in the region. The exam last 30 minutes and is made of multiple-choice questions. Candidates must get the average in each of the 3 series below:
Generalities of the mobile maritime service,
VHF radiotelephony,
Practical use of the DSC VHF (GMDSS).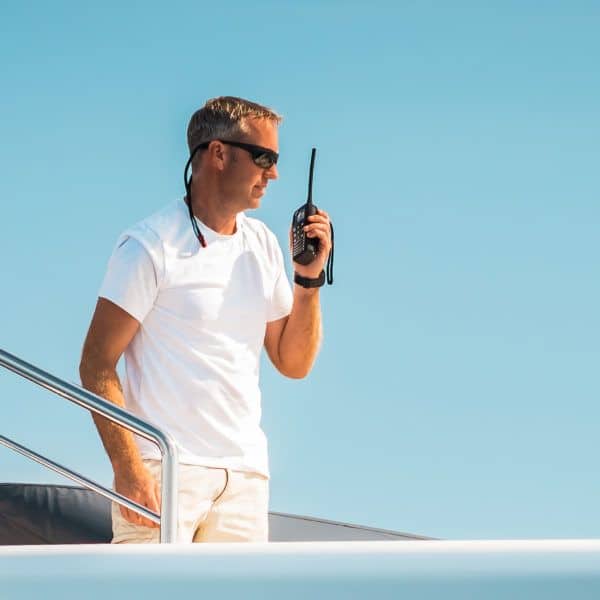 €350 as an individual course and €420 for non members.
€120 as a group course (minimum 3 candidates) and €144 for non members.